Price 1 Adult
ZAR 7725.00
Price 2 Adults
ZAR 8720.00
Price Per Extra Adult More Than 2
ZAR 3670.00
1-Day Sunrise Pilanesberg National Park Safari near Johannesburg with an experienced guide (Malaria Free)
Few major cities in the world can boast a "Big 5" game reserve on their doorstep, as Johannesburg or Pretoria can.
The Pilanesberg is one of South Africa's best National Parks to visit. The exceptional game viewing and fantastic scenery make this an exciting and memorable safari. Here you will have the opportunity to come across an abundance of wildlife, including the 'Big 5', in this beautiful reserve.
Pick-up and drop-off at your hotel or the airport or vice versa, with our knowledgeable and professional tour guides, make for a super convenient safari with an exciting wildlife experience.
Besides its magnificent "Big 5" and all the other iconic African fauna and flora that make this reserve remarkable, the Pilanesberg's position inside the eroded caldera of a 1,200-million-year-old volcano makes for interesting and impressive landscapes and vistas. Mmilo Tours will take you on safari to the Pilanesberg every day of the week and will personalize your private safari. Over the past 12 years, we have conducted innumerable private and small group safaris for visiting overseas business travellers, families, small groups, and solo travellers.
Pilanesberg Game Reserve is the wildlife treasure of our region and a jewel in the crown of tourism attractions near Johannesburg/Pretoria. With all the iconic wildlife of Africa, set in ancient volcanic mountains, it affords visitors a great chance to see what primordial wild Africa looked like.
The route to Pilanesberg is via the scenic area of the Magaliesberg Mountains and the world's richest platinum mines. It takes around 2 ½ hours to get there from Johannesburg, and 2 hours from Pretoria.
As you have only one day, we leave early, pick-up time is dependent on your location and time of the year. Early morning is the best time to see the cats. Starting at 11.00 am for the sunset safari option is also good.
Since this is a "Big Five" territory, encountering lion, leopard, elephant, rhino, and buffalo is possible on this safari.
Timing is crucial
Sunrise, which ranges from 3:00 am in summer to 4:30am in winter, is the best time to possibly see the "Big Cats" and other predators, as dawn and dusk are their prime hunting times. Return to your hotel or be dropped off at the airport 11 hours after pick up. It's a longish day but being in the Pilanesberg at dawn makes it all worthwhile.
Mmilo Tours Game Drive
We will maximize your experience. In all, you will spend between 6-7 hours in the reserve, giving you the maximum time possible to spot the wildlife that freely roams this reserve.
Light lunch is included
A light lunch is enjoyed at one of the lodges inside the Pilanesberg National Park, usually at Bakubung Bush Lodge, depending on where the safari and sightings take us. Bakubung Lodge's dining terrace is unique, as besides its excellent food, it overlooks a waterhole, where you can view the animals and birds that gather here.
Extended Whole Day Game Drive
For wildlife enthusiasts who want to maximize their Pilanesberg safari, we can include both sunrise and sunset options. This will give you a total of 12 to 14 hours in the reserve, with stops for lunch and refreshments. Part of this day will be a 3-hour open vehicle safari in order for your guide to take a rest before the drive back to Johannesburg or Pretoria.
Shared Safari
The prices quoted on this page are for a private safari. However, should separate individuals be prepared to share this safari, and after discussing this with you, we can offer you the option of a price reduction by sharing this day safari.( This is if another guest requests a Pilanesberg safari on the same day and the times coincide).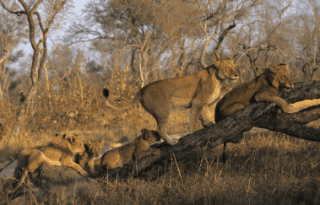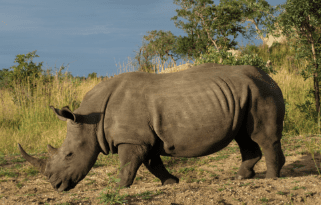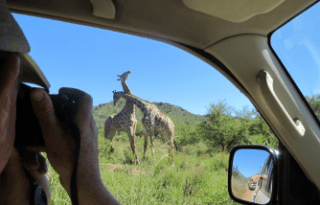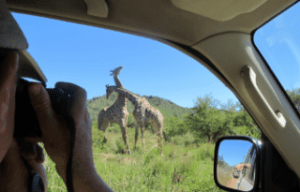 Fly in Cape Town Safari Packages- Johannesburg Airport to Airport Landing & Drop Off
Cape Town and surrounding does not support adequate wildlife to afford a reasonable and authentic safari experience. Convenient flights to Lanseria Airport (HLA) from Cape Town (CPT), is your best option for a true and authentic safari experience. Mmilo Tours will meet you on arrival at Lanseria Airport and take you on safari to the Pilanesberg.
See our One night and Two Night packages for our Pilanesberg stay overs. Game reserves, in the north of South Africa, simply have a greater variety and much larger numbers of wildlife roaming freely and naturally, because the habitat is suitable and of the availability one basic resource is in abundance…..grass!
We will meet you off your flight at any of the airports in and around Johannesburg or Pretoria and depart straight away on safari and have you back at the airport the same day! But it is recommended to stay overnight if you can by booking one of our packages.
Pilanesberg Safaris are a Mmilo Tours specialty. Please see our reviews on TripAdvisor to confirm this.
The price above is for a maximum of 4 people in our SUV. (Groups of 4 or larger please contact us for a quotation).
Free Mineral water included at all times.